Hello everyone, welcome to more of my words. This time round, I'm taking a deep dive into the Stack Overflow 2020 Developer survey. This is actually my third time analysing a Stack survey – having previously looked at the 2019 Developer Survey and the 2017 Developer Ecosystem Survey. For context, these results were gathered in February 2020, from around 65,000 developers worldwide. There will be some cultural differences across the world, but I've tried to make my analysis as UK local as possible.
Now, to no one's surprise, I'll be looking over these results with a recruitment-tinted magnifying glass; understanding relevant trends and outcomes, and how we can improve our hiring process and approach in the best way possible. Before I really kick off, a brief thank you to Stack Overflow for not only putting out great and useful content like this 2020 developer survey, but also for their overall support to the community. Cheers folks, keep fighting the good fight.
Men's priorities V women's priorities
One of the most notable results I took from the 2020 developer survey were the differences between the priorities men and women consider when applying for a new role. Out of a standardised list, each developer was asked to pick their top three priorities – and only 5.5% of male respondents picked diversity as one of theirs. The next most important thing to men was which specific team or department they'd work on, totalling 11.7% of respondents. The most common priority was what technologies would be used in the role, followed by company culture, and then flex-working options. Women, on the other hand, listed company culture, flex-working and then technologies (in that order). It's worth noting that 18.6% of female respondents noted diversity as a top three priority.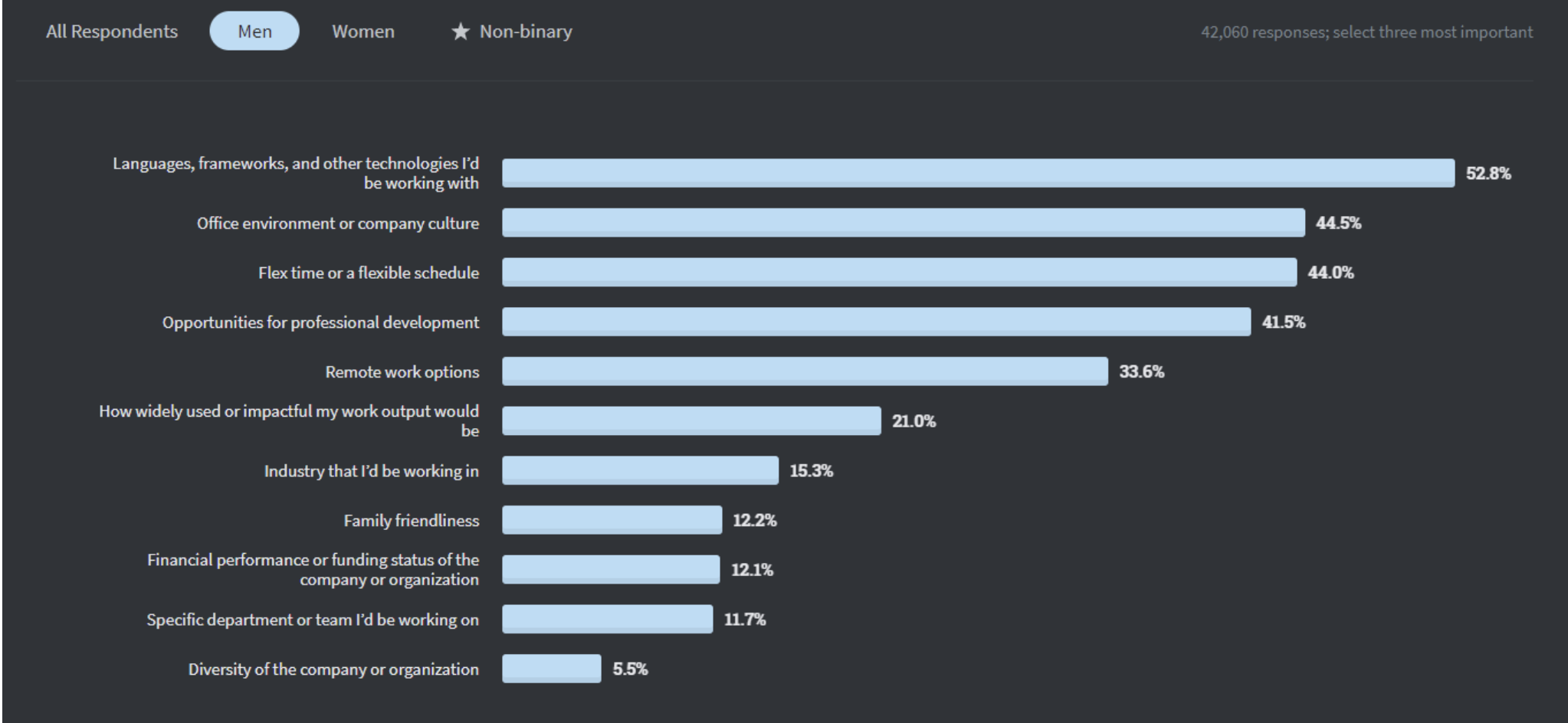 The discussion of diversity in tech – and it is to be noted that diversity doesn't just mean men and women, but race, sexuality and neurodiversity – is huge, and a regular conversation when looking to make new hires for a team. Large tech companies, often dominated by white men in senior positions, regularly cry out for help on how to solve the diversity issue. The biggest problem for me is that they assume other individuals i.e. not white men, have the same motivations to join a company. If you are actively trying to welcome more women, or non-binary candidates, into your team, you must make a concerted effort to create a welcoming, supportive team culture, as well as a diverse workforce.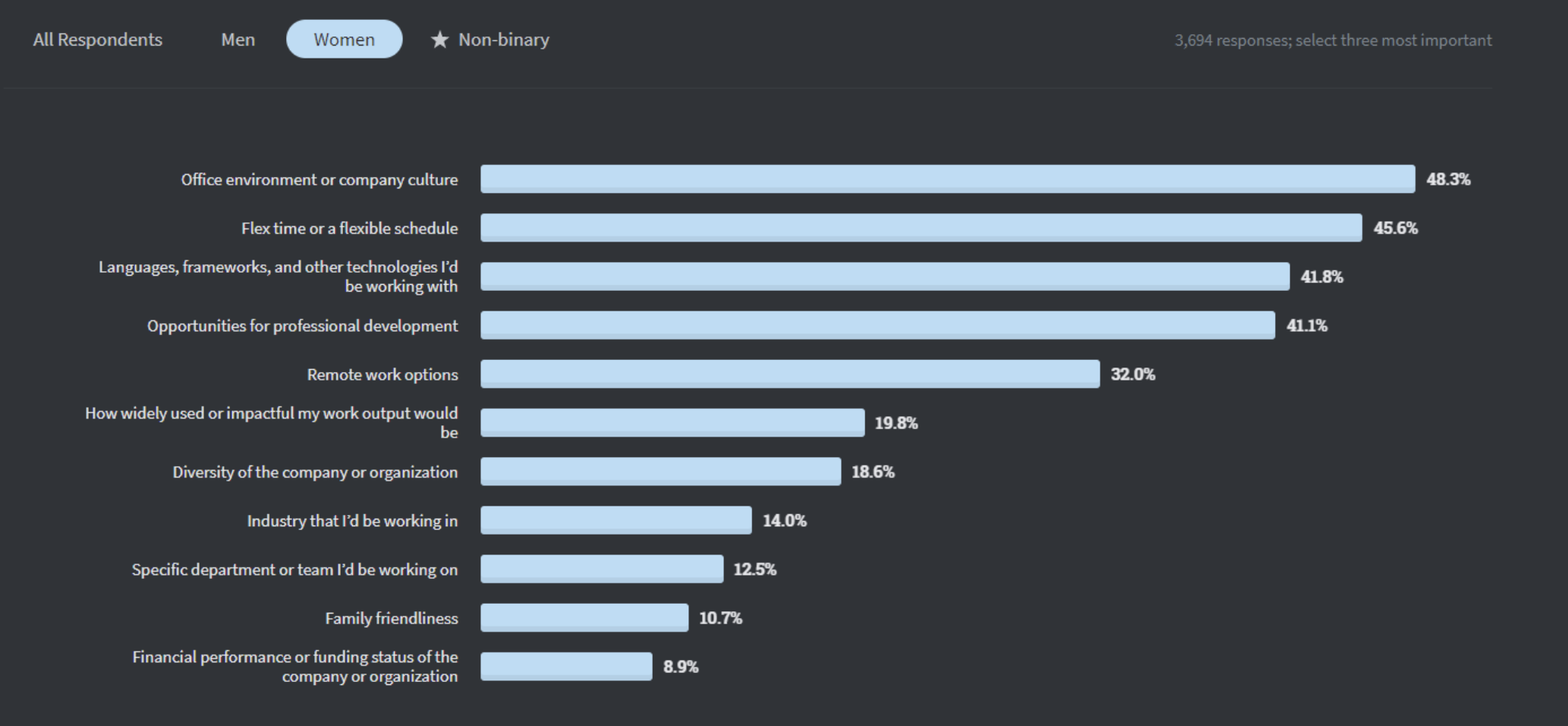 How important is a degree in software engineering?
I believe a further step in the diversity discussion is regarding companies hiring people from a 'traditional' software engineering background or otherwise. By 'traditional', I refer of course to people with Bachelor's and/or Master's Degrees from well regarded universities, and often includes internships at tech companies. It is well-established that there is severe underrepresentation from minority ethnic groups at the top universities in the UK and the US, and in particular the States' university fees are so extortionate, you generally have to come from a fairly wealthy background to consider it as a reasonable route.
Stack Overflow's 2020 developer survey responses indicated that 49.3% of those surveyed had a Bachelor's degree, and 25.5% had a Master's degree. If you are writing a job spec and determine that candidates need at least a Bachelor's degree to consider themselves worthy of a role in your company, you are effectively rejecting 50.7% of the market before even reviewing their experience or expertise – and to go back to my previous point – you're also likely rejecting underrepresented groups in tech.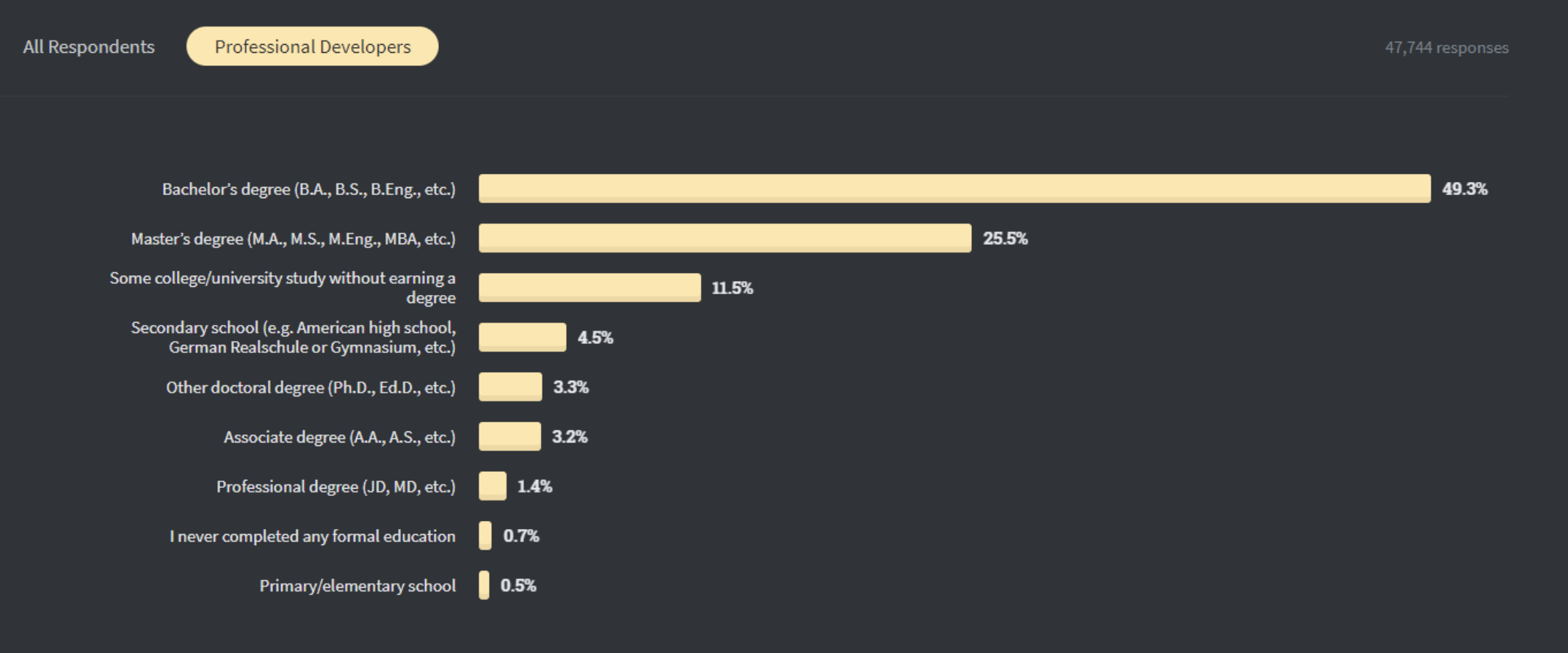 I'm aware that the rebuttal may be that the work genuinely requires someone with extensive research into Computer Science or a related STEM subject to produce effective results, but you are ignoring that notion that a) no developer you've hired could possible learn and apply themselves, or b) only 34.1% of Stack's respondents considered their degree anything more than 'Fairly important', suggesting over 65% of respondents don't use their degree in their roles all too often. Lastly, you don't need a degree to get a job at Apple, Google or Netflix. I'm sure every ambitious startup likes to talk about the quality of their engineering team, but it would take a special kind of CEO to start throwing around suggestions you have a better team than Google.
Onboarding? What Onboarding?
This one is frustrating. When asked about the onboarding experience at their most recent company, 29.7% said their onboarding process was bad, and 21.7% of people didn't have any onboarding at all.

People assume that hiring someone is purely receiving a CV, making sure they're good enough and you like them, then making them an offer. Absolutely not! What's the best thing you can do to make sure you have good people working at your company? Fix your attrition rates, and make sure good people stay. That's everything from improving company culture; making it an enjoyable, friendly place to work; taking care of your market perception; and lastly, most easily, making sure they have a good start.
A positive onboarding experience is not hard, and I can't imagine people's expectations are sky-high either. It's making sure you're set-up for their arrival, you introduce them to the team, some basic training. Show you care! It's hard to shake a first impression, and if your first impression is that you don't care about your new starter, then you can be sure they won't stay as long as you're hoping.
People are learning all the time – encourage it!
The last part of the survey that caught my eye was just over a third of professional devs saying they learned a new language or framework 'every few months'. It's worth noting this wasn't specified for learning on the job or at home.

I think it's important to keep your staff engaged, and one of the main things to do is encourage the learning and application of new technologies – after all, around 50% of men and women listed technology preferences as a top three priority for a new role. Zoe Cunningham, MD of the brilliant consultancy Softwire, once told me that "the best people don't want to be doing what they've been doing for five years, they want to move onto something new" – and this continues to ring true.
All your best engineers will be continuing to learn, hone and develop new skill sets – something which will often be beneficial for your team. There are no doubts that people will eventually move on to work in a new domain, or you're unable to support a technology or methodology they're infatuated with, but that's just people – we ebb and flow naturally. However, to continue to encourage your team to learn both on the job, and in their spare time (although never chastise them for not learning in their own time – for some people this is just a job!) and help them apply themselves in certain areas. If you do that, you'll be doing your best to support a very positive engineering culture.
To Conclude…
Some of these statistics are, at least at first read, quite frustrating to digest. But I think, with analysis, we're able to understand the root of a number of problems within the tech hiring space. There is, quite clearly, not enough emphasis on positive working cultures, as determined by so many engineers looking for a better culture in their new jobs, and so many engineers dealing with negative onboarding processes. However, there is light at the end of the tunnel, as we can only look to improve and learn from these previous mistakes. On the other hand, if I have to come back and write another one of these next year and nothing's changed, all hell will break loose!